FT 9700 FT-NIR-Analysesystem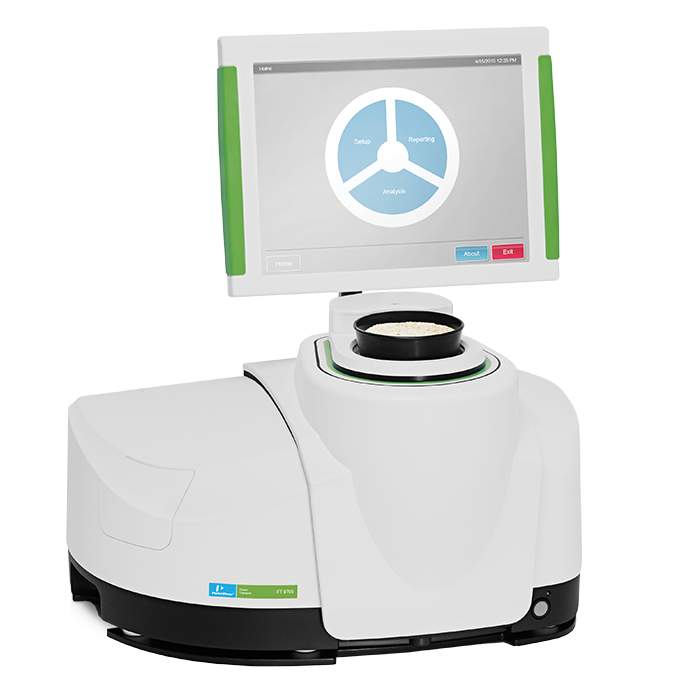 Feed-, food-, and grain-processing plants across the globe need quick, accurate, and reliable analyses to monitor the quality of incoming raw materials and finished products. The PerkinElmer FT 9700™ is a compact, high-performance, full-wavelength-range Fourier Transform Near Infrared (FT-NIR) spectrometer with a touchscreen interface and low-maintenance design, ideal for food and agricultural product analysis.
Analyse all incoming and outgoing deliveries with one analysis in less than 30 seconds. Stop poor quality raw materials at the gate and have full confidence in your products. True laboratory-performance NIR for everyday analysis is now possible with the PerkinElmer FT 9700. It delivers operational simplicity, combining superb performance with low-maintenance design. With integrated touchscreen and PC, the analyzer can be used as a standalone solution, integrated into local networks, or connected to web-based cloud services.
Key features
Analysis in less than 30 seconds
High-performance, versatile FT-NIR technology
Touchscreen operation with intuitive software
Calibration transfer from other long-NIR-wavelength instruments
Our patented technology ensures superior spectra regardless of your application. With an exceptional transferability, advanced electronics, and optimized sensitivity, the FT 9700 analyzer's consistent performance is guaranteed. And with its robust, portable design and incomparable ease-of-use features, it can be deployed wherever it's needed most.
Innovative rotary interferometer – Eliminate dynamic alignment for reliable service over time
Unique standardization technology – Ensure calibration transfer from instrument to instrument
Compact, robust enclosure – Protect your optics to ensure maximum instrument uptime
NIR Reflectance Module – Fast, simple measurements for detection and quantification
Designed for easy operation
The FT 9700 system is easy to use, so analyses can be performed with minimal training. Using the Results Plus software interface with touchscreen operation, the FT 9700 analyzer offers a simple, modern, intuitive, and productive experience. With our system – reflectance measurements and rotating sample cups during analysis – sample handling is easy.
Expertise in NIR applications
For more than 80 years, PerkinElmer has been providing leading spectroscopy instrumentation and dedicated NIR analyzers for the feed and agricultural industries. With NIR specialist teams around the globe, we're ready to support you with predeveloped as well as custom calibrations. We can also support calibrations provided by external third-party suppliers or developed by users themselves.
The FT 9700 analyzer is also capable of using calibrations based on transferred data from other brand NIR systems using full-wavelength NIR region, FT-NIR, or dispersive scanning monochromator instruments. This means that the NIR databases and calibrations do not have to be recreated when using the new FT 9700 NIR platform.
Specifications
| | |
| --- | --- |
| Analysis time | <30 seconds |
| Measurement mode | Up-view reflection or transflectance |
| Sample types | Ground or unground grains and pellets, powders, meals, and more |
| Sample volume | Flexible, 5 ml to 150 ml, depending on sample type |
| Display | 12-in. color touchscreen |
| Operating system | Microsoft Windows® 10 Enterprise |
| Language | Multiple languages, including English, Chinese, Thai, Russian, and more |
| Interface | USB ports and Ethernet |
| Operating temperature range | 5 °C to 40 °C |
| Wavelength range | 700 nm to 2500 nm |
| Detector | Indium gallium arsenide (InGaAs) |
| Wavelength accuracy | <0.03 nm at 1670 nm |
| Dimensions | (H) 550 mm x (W) 460 mm x (D) 410 mm (including touchscreen) |
| Power requirements | 100 – 230 V, 50/60 Hz |
| Weight | 26 kg |
---
Neuigkeiten und Termine
Lesen Sie hier alle Neuigkeiten rund um unsere Innovationen, Leistungen und Services. Weitere Neuigkeiten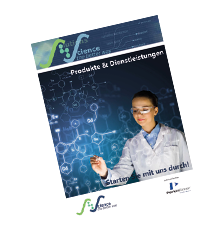 Hier können Sie unsere Broschüre als PDF downloaden, um einen Überblick über unser Service und unsere Angebote zu bekommen.